---
Congratulations, you've found a secret page!
This is one of a series of hidden pages scattered around the site presenting even more rare images and information. Happy hunting!

Presented below is information and examples from the unproduced Battle of the Planets Fan Club Membership Kit. Since there were so many elements inside it, this entry will provide a little bit of information after each item's image.

***
The certificate of membership/certificate of authenticity. It would have included the member's individual membership number and was signed by "Chief Anderson."
***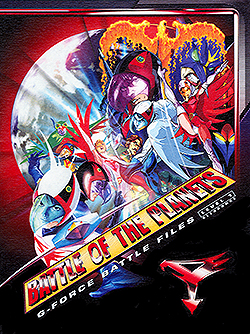 A file folder for storing the Battle of the Planets newsletters and COA. Its reverse image can be seen on mouseover
***
The exclusive lithograph drawn by artists from Udon Studios. Proving nothing goes wasted, this image was eventually used as the cover for Dynamic Forces' Classic Issues Volume 1 reprints of Western Publishing's original Battle of the Planets comics. The image was drawn by Omar Dogan. It would have been rolled inside the fan club box.
***


The exclusive six Ccard set included original images from Wilson Tortosa, J. Scott Campbell and Alex Ross, as well as three images originally used on Japanese LaserDiscs by Michitaka Kikuchi (Gatchaman), Hiroyuki Kitazume (Gatchaman II) and Kazuhiko Tsuzuki (Gatchaman Fighter). The backs of the box and the cards can be seen on mouseover.
***
The membership card. It would have included the member's individual fan club membership number, as well as room for the member to add their signature. It was to have been printed on hard card stock at credit card size. The back of the membership card can be seen on mouseover.
***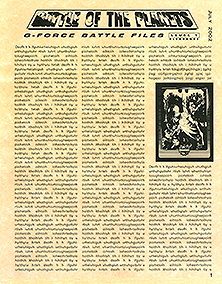 A mock-up of the first volume of the Battle of the Planets newsletter. Each issue would have been four pages long and would have included interviews, reviews, ads and special offers for the latest merchandise.
The fan club kit was well into production when it was canceled. All art and text was done and finalized, the lithographs were printed and mock-ups were completed for all of the other items. Final, full-color flyers were printed up and distributed to various outlets and orders had been taken. But in the end it was decided there wasn't enough interest to keep the club afloat for its first year. 2003, by Dynamic Forces.
---