Toys
---------------------------------------------------------------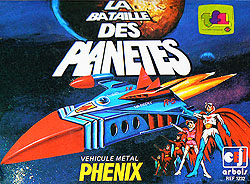 .......
.......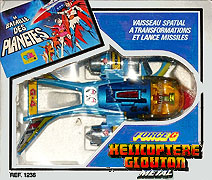 These toys were French re-releases of ones originally issued by Popy in Japan. The Phoenix, as shown first and seen in Battle of the Planets, consisted of a die-cast metal body with plastic tail fins and nose. It also came with small plastic versions of G-Force's individual vehicles that could be stored in its body. The jet, auto, cycle, helicopter and tank toys following, as well as the Super Phoenix toy on the bottom, were designs that were not seen in Battle of the Planets. These were toys of the team's vehicles from the Japanese sequel series to Gatchaman, Gatchaman II. Ceji Arbois oversaw distribution of these toys in different packaging and labels in several European countries. 1980, by Ceji Arbois.
--------------
This French "Spaceship Phoenix" toy operated much like American Vertibird toys. The Phoenix and a counterweight/propeller were both mounted on opposite ends of a flight arm. It rotated 360 degrees and could also raise and lower. The rear end of the Phoenix also contained a propeller. The flight for the Phoenix was directed with a multi-button hand held controller that was wired to the base of the flight arm. The toy also came with a play mat, set of rules and a pair of dice. 1980, by CH-Bourgeois.
--------------
A French Phoenix toy. This used a spring-loaded hand grip to launch the toy on short flights. It was issued in 1980 by Ceji Arbois.
--------------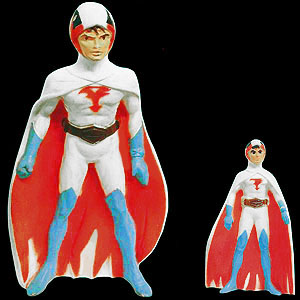 Two soft vinyl figurines. One was about ten inches tall and the other about five inches tall. Neither had any moving parts. 1979, by Delacoste.
--------------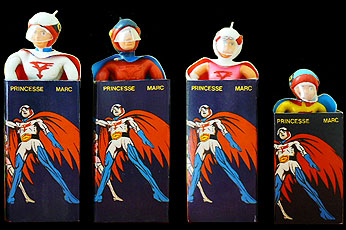 Flexible wire frame figures of Mark, Jason, Princess and Keyop. 1979, by Orli Jouet.
--------------
.......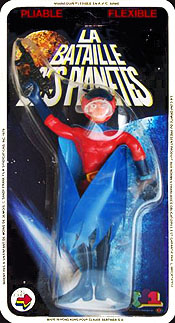 .......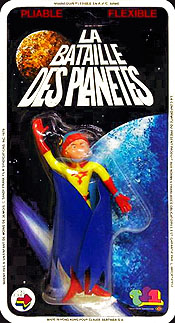 The same flexible wire frame figures as above, in alternate packaging. 1979, by Orli Jouet.
--------------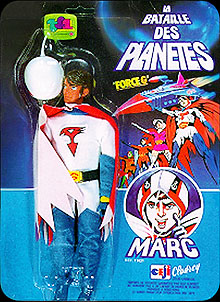 .......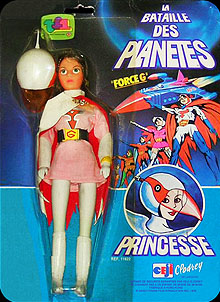 Three Battle of the Planets dolls with articulation, removable helmets, cloth uniforms and wrist communicators. These dolls were created for the French market but exported to other countries like Greece. 1979, by Ceji Clodrey.
--------------
Four small Battle of the Planets magnetic figures. 1979, by Magneto France.
--------------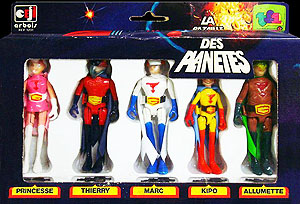 A boxed set of all five Battle of the Planets action figures. These figures were originally released by Popy in Japan to support Gatchaman II. Each figure had a removable helmet, gun and flexible plastic cape. They were also released individually on cards as seen below. The boxed set was distributed in additional European countries such as the Netherlands and Belgium in multi language packaging. 1980, by Ceji Arbois.
--------------
.......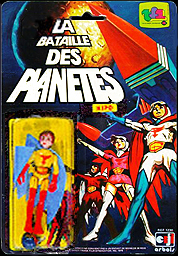 .......
Four individual release Battle of the Planets action figures. All five members of G-Force were made. They were also sold together in a boxed set as shown in the entry above these figures. Each figure had a removable helmet, flexible plastic cape and gun. These toys were also released in multi language packaging in other countries such as the Netherlands and Belgium. 1980, by Ceji Arbois.
--------------
This official French Frisbee featured a full-color sticker on its top. It was shrink-wrapped to a backing board. 1980, by Frisbee.
--------------
This hand-operated movie viewer allowed users to look at film clips on super 8 film loop cassettes. Kids would look through an eye piece, hold the viewer toward a light source and turn the handle to watch the clips play out.
There were a total of six Battle of the Planets cassettes released and all had original titles that were reminiscent of the regular Battle of the Planets TV episodes. Each film was released in two formats that were compatible with different types of viewers.
Pictured above are the V 35 Movie Viewer on the top row, three open and one boxed examples of V 35 format cassettes in the middle row, and all six of the packaged cassettes for Mupi's premium Cinevisor Projector on the bottom three rows. Only the V 35 Movie Viewer had a specific release in Battle of the Planets packaging. 1979, by Mupi.
---------------------------------------------------------------