Various
---------------------------------------------------------------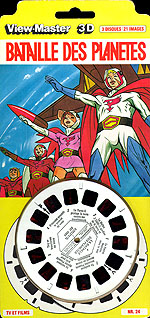 .......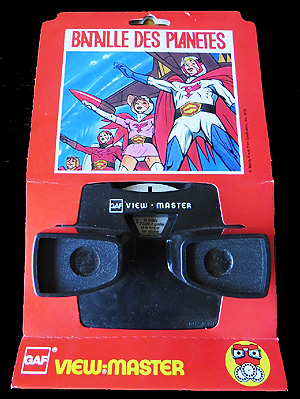 The top row features two sets of View-Master reels in their original packaging. The version on the left is believed to be the initial release, with alternate packaging on the right. There were three reels in each package, making a total of 21 3D images. The reel content in each package design was identical. Although these were created for the US market, they were only released in the UK, France and Belgium.
The bottom image is of a rare, French language Battle of the Planets themed View-Master package. It included a black viewer and the three Battle of the Planets View-Master reels as seen in the top row. It was also released only in France and Belgium. 1979, by GAF.
--------------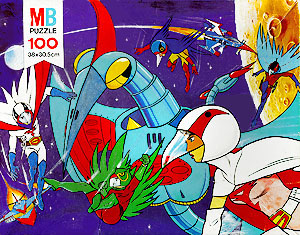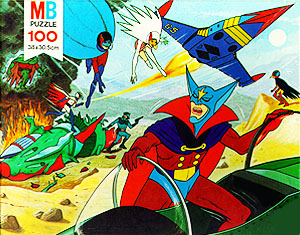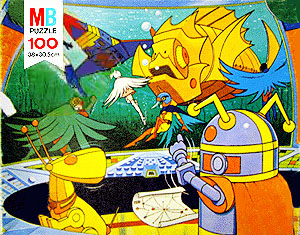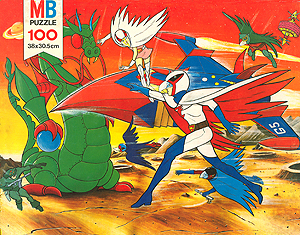 All four 100 piece puzzles released in France. Each featured original artwork. They were also issued with international packaging. 1979, Milton Bradley France.
--------------
A special set of plastic cubes, housed in a hard plastic case. Each of the 24 cubes had a section of a Battle of the Planets picture printed on their sides. The cubes formed six different puzzles in all. 1979, by France Jouets.
--------------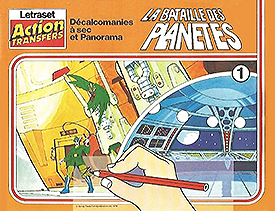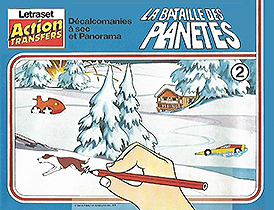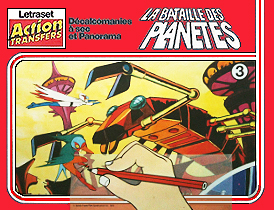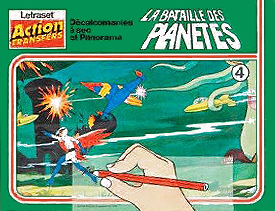 All four sets of Battle of the Planets "Action Transfers." They each consisted of a large foldout paper background and a sheet of characters, vehicles and effects images to rub down onto it. They were the same idea as Presto Magix sets issued in the United States. The same sets with these designs were also released in the UK. Spain got four similar sets but with different background images. 1979, by Letraset.
--------------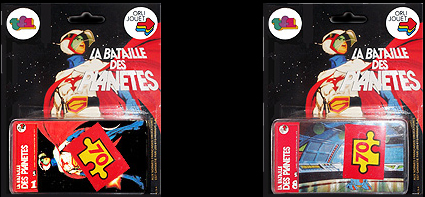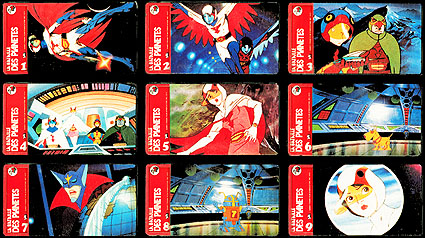 Nine miniature boxed French Battle of the Planets puzzles. These 70 piece puzzles came in hard clear plastic cases and were originally sold on blister cards. Two packaged examples are shown on the top row. Of note are the images depicted on puzzles 3, 4, 5, 7 and 9. They were from the final episode of Gatchaman, which was not shown as part of Battle of the Planets. These were made in 1979 by Orli Jouet.
--------------
.......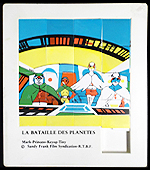 Two miniature plastic sliding tile puzzles. "Mark - Jason" on the left and "Mark - Princess - Keyop - Tiny" on the right. Although they both included the French title for the series, these puzzles used the American character names. 1979 by T.B.F.
--------------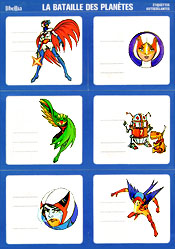 .......
Two sheets of sticker labels. Each label included one original picture and a few lines for notes or addresses. 1979, by Libellia.
--------------
A series of French pen sets. The two on the left of the top row were fountain pen sets that came with refill cartridges and stickers that were unrelated to Battle of the Planets. The next package was a ballpoint and fountain pen set. It also included a couple refill cartridges. The last set on the top row was a deluxe version that came with a ballpoint pen, fountain pen, refill cartridges and a large Battle of the Planets notebook. The bottom row features a fountain pen and dual-sided red and blue felt tip pen set on the left. Another deluxe set is on the right that came with a ball point pen with a different design plus a small Battle of the Planets notebook and sticker. Additional configurations were released. 1979, by Libellia.
--------------
A box set of twelve colored pencils that also included two erasers and a sharpener, all housed in a plastic tray. The pencils and erasers had Battle of the Planets images. 1979, by Libellia.
--------------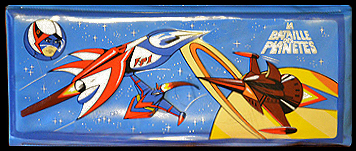 A soft vinyl and plastic pencil case. It had a metal clasp to keep it closed and space inside for about ten pencils and an eraser. 1979, by Libellia.
--------------
A hardboard children's art board with eraasable surface and adjustable easel-style wooden legs. It also came with a plastic pencil tray. Approximately 2 feet wide by 3.75 feet high. 1980, by Maurice Charton.
--------------
A small erasable art board. 1980, by Maurice Charton.
--------------
A Battle of the Planets pencil sharpener, released only in France. All four sides are shown. 1979, manufacturer unknown.
--------------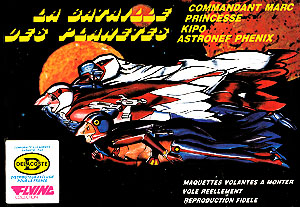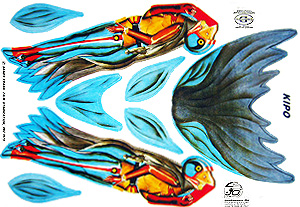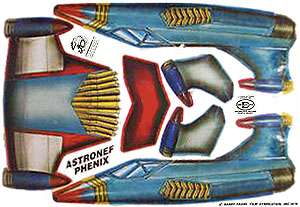 Four different unassembled flying planes. Each came with a sheet of die cut foam, a sheet of die cut cardboard, a sheet of die cut full-color stickers and a folded square metal weight. The foam and cardboard pieces were to be removed from their sheets and the stickers were to be placed on the foam pieces before assembling the whole plane. Four examples were made, Mark, Princess, Keyop and the Phoenix (sticker sheets for all are shown above). The front cover (the first image above) was the same for each item. Buyers could see the sticker sheets on the backs of the packages to tell which plane they were getting. 1979, by Delacoste.
--------------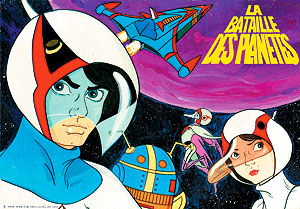 A collection of eight original rubber stamps that came complete with water-soluble ink, colored pencils and a pad of blank paper. One stamp was included for each G-Force member along with 7-Zark-7, 1-Rover-1 and the Phoenix. 1979, manufacturer unknown.
--------------
A Battle of the Planets anti-magnetic and anti-shock children's wristwatch. It came with a one year guarantee. 1980, by VPC 1.
--------------
.......
Three costume sets. The top two "Super Costumes" included long-sleeved shirts with feather-like edges on the arm backs, flexible plastic helmets with clear visors, Wrist Activators and belts with G buckles. Mark, Princess and Keyop versions from G-Force were released. The bottom Zoltar costume, asssembled as an exclusive to "The Big Parade" line featured a Zoltar mask that was released separately (see the gallery of masks below), but added a very nicely done, two color cape with red collar, gold trim, and gold rope in two button clasps. 1979, by Le Panache Blanc. Zoltar mask by FF.
--------------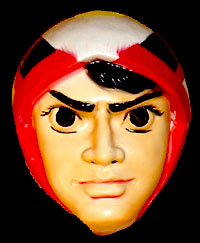 .......
.......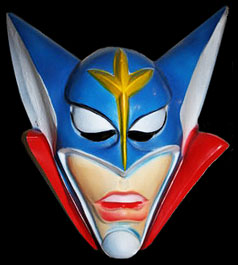 .......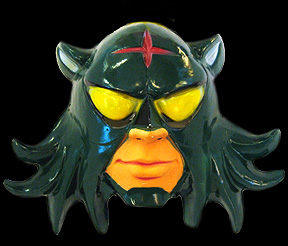 A set of five festive masks. Mark, Princess, Tiny, Zoltar and Commander Gorok were known to have been issued. 1979, by FF.
--------------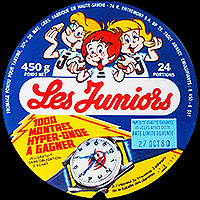 French cheese company Les Juniors ran special Battle of the Planets-themed promotions throughout 1980. Three label examples are shown above; two 225g and one 450g. The two latter two labels advertised chances to win a real robot and a Battle of the Planets wristwatch. Les Juniors also included a set of character stickers in marked boxes that could be attached to a special foldout poster called the Planetorama. The cover of the Planetorama is shown below the labels above, and an incomplete version of it can be seen here.
--------------
A small schoolbag/backpack with Keyop. It included a large section for books and a smaller front pocket for pencils, etc. Approximately 1979, manufacturer unknown.
--------------
A collection of all seven Battle of the Planets mustard glasses. When new, each came with a cap and was filled with mustard. There was no glass issued for Jason. 1980, by Amora.
--------------
A pack of Battle of the Planets themed balloons, released only in France. 1979, manufacturer unknown.
--------------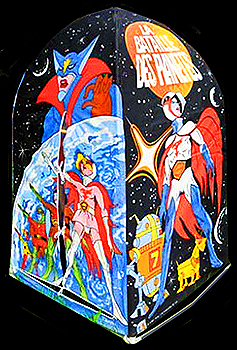 A French chidren's tent. It had a closeable zippered front entrance and a small sun roof on one of its sides. It measured 90 x 90 x 145cm. 1979, Mundia.
---------------------------------------------------------------