Toys
---------------------------------------------------------------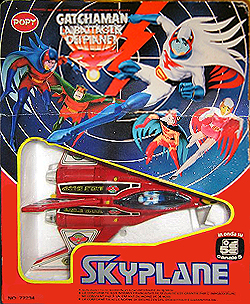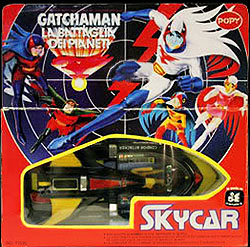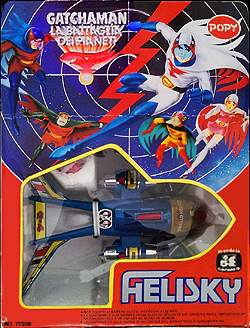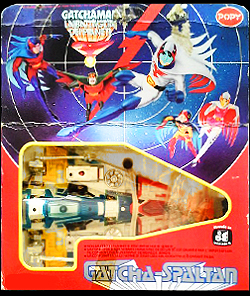 Italy saw releases of several Gatchaman - Battle of the Planets die-cast metal vehicles. However, these toys featured designs that were not used in Battle of the Planets. Most of the vehicles were originally created for the first Japanese sequel series, Gatchaman II. But one, the "Gatcha-Spaltan" was from the second sequel series, Gatchaman Fighter. Many regions of Europe like France, Belgium and the Netherlands received their own releases of these same toys a few years before Italy. But the Italian versions had their own special packaging and were distributed by Popy, the original Japanese manufacturer. In addition to the toys shown above, there were vehicles released for Tiny (Skytank), as well as two different sizes of the "(New) God Phenix" and a larger sized "Gatcha-Spaltan. These same package versions were later released in the UK with stickers to cover the Italian logos on the front. They were also released in Australia with stickers over the Italian logos.1982, by Popy.
--------------
This box set of five figures was originally released in Japan under the Gatchaman II banner. They were co-branded as Gatchaman - Battle of the Planets in Italy, as were the rest of the series' toys in the country. These figures were released in similar box sets in France, Belgium and the Netherlands They came with removeable helmets, guns and flexible capes. 1982, by Popy.
--------------
This impressive Gatchaman - Battle of the Planets combination slot car racing set and competition game was issued only in Italy. It included track pieces, a transformer, two speed control handles, guard rails, various set pieces, a very large illustrated play mat, two cars and a special medallion for the game's winner. The cars were based on Ken and Joe's vehicles from the Gatchaman II series. 1981 by Polistil.
---------------------------------------------------------------