Toys
---------------------------------------------------------------
A large "Space Ray with Light" playset that included a belt with G buckle, holster with stickers, pouch, battery-powered light and lenticular Wrist Activator. The materials for the belt holster and pouch were very inexpensive plastic. All pieces were stapled to the inside of the packaging. The lenticular Wrist Activator was issued with both black (as shown above) and red wrist bands. 1980, by Josman.
--------------
.......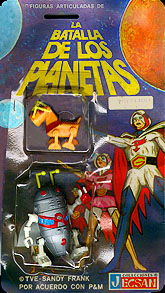 Mark, Princess, 7-Zark-7 and 1-Rover-1 action figures. Mark and Princess had articulation at their necks, arms and legs, plus transparent visors, removeable belts and soft plastic capes. A two pack with 7-Zark-7 and 1-Rover-1 is pictured on the bottom row. All four of 1-Rover-1's legs were articulated as well as his antennae. 7-Zark-7's arms, legs, head and antennae were articulated. 7-Zark-7 also had a soft plastic cape and although it is hard to see, he held a small oil can in his left hand. These figures were initially available in Spain, but were exported to other Spanish-speaking countries. 1980, by Colecciones Jecsan.
--------------
A bagged set of hard plastic non-articulated action figures. Although the outer packaging promised "The Invincible Army of Commando G," and was branded as Battle of the Planets, the toys attached to the back of the card were generic space explorer type figures. They were originally produced as Thunderbirds and/or UFO series collectibles but were reused in a number of unrelated space-oriented lines. Paint schemes on the five or six different types of figures varied by pack. Two figure examples are shown below the outer bag. Four figures were included in each pack. 1980, by Comansi.
---------------------------------------------------------------