Various
---------------------------------------------------------------
The metal Battle of the Planets lunch box included a plastic handle and a thermos inside. The thermos came in a variety of colors. 1979, by Thermos.
--------------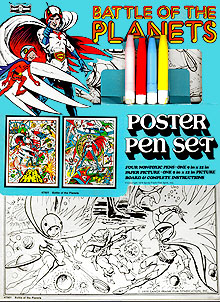 The Battle of the Planets Poster Pen Set. This set was shrink-wrapped with two posters to color and a basic set of four different color felt-tip color markers. One of the posters was printed directly on the thick backing board, the other on a piece of medium thick paper. 1979, by Crafthouse.
--------------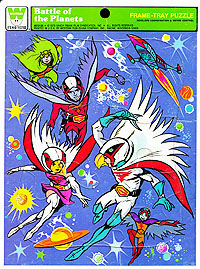 A puzzle meant for very young children, each of the pieces fit snugly into a heavy cardboard frame. 1979, by Western Publishing Company, Inc.
--------------
The Battle of the Planets Magic Slate Paper Saver featured a drawing surface and plastic stylus. You could mark the surface with the stylus then lift the plastic to erase the drawing. 1979, by Western Publishing Company, Inc.
--------------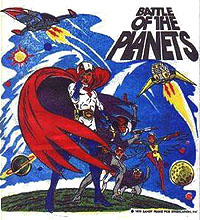 Two Battle of the Planets clothing designs. The top pair of pajamas with shirt and pants were issued in different colors (other examples exist in yellow with red collars and cuffs). The bottom iron-on transfer was also used on pajamas, robes and other children's clothing. 1979, by Sullcraft.
--------------
..............
Three different types of Battle of the Planets socks, with a packaged example at the top. These socks had foam-lined inner soles with thick vinyl bottoms. An unknown number of other designs were made. 1979, by Sullcraft.
--------------

A set of six prototype drinking glasses, most likely destined for release at Taco Bell restaurants. Unfortunately they only got as far as sample stages and were not mass produced. 1979, by Pepsico.
--------------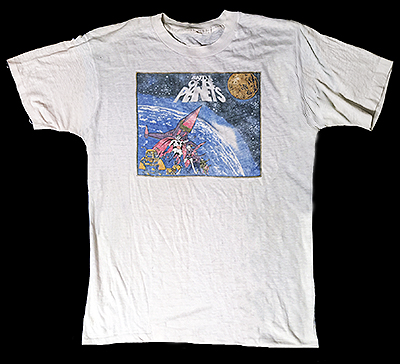 A promotional T-shirt given out by Sandy Frank. When Frank traveled to TV conferences, he had T-shirts printed up for his various programs. This particular example was given out at an orphanage in Cannes, France while Frank was in town for the annual MIP-TV gathering. 1979-1980 by Sandy Frank Film Syndication.
--------------
A promotional T-shirt given out at the December, 2001 Los Angeles Comic Book and Science Fiction Convention. Every attendee to the show was given an XL-sized shirt. It was done to promote the first two volumes of Battle of the Planets on VHS and DVD. 2001, by Rhino Home Video
--------------
This fully-painted resin bust was limited to 5,000 editions. It was sculpted by Greg Aronowitz and included a hand-signed certificate of authenticity from him. Tiny and Keyop versions made it to prototype stages but were never released. 2002, by Diamond Select Toys.
--------------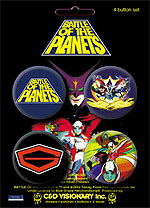 A set of four miniature buttons attached to a backing card. 2002, by Blue Grape Merchandising.
--------------
One of the most ambitious items of Battle of the Planets merchandise during the property's resurgence was the ultimately unproduced fan club kit. It would have included a membership certificate, 8.5"x11" file folder, 11"x17" poster with original art, a boxed set of six exclusive trading cards, a two-sided membership card and an introductory newsletter.

The outer box for storing all of the fan club kit items. It was to have been a hard cardboard folder with a hinged top. It would have closed with a flap and Velcro button. It was approximately 9"x12"x2". All of the box's sides can be seen above, with the reverse main image viewable on mouseover.
---------------------------------------------------------------