Books
---------------------------------------------------------------
A Venezuelan version of the G-Force Against the Monsters of Spectra card album. It differed from the original Spanish version in the way the pages were presented. This led to the album having an extra page at the end. Instead of offering a new page with original cards, the album simply reprinted the previous one with the spaces for cards 157 - 178 repeated. Also, the individual Venezuelan cards had their numbers printed on their fronts, while the Spanish ones were clean on the front with their numbers printed on the card backs. 1980, by Agencia Reyauca.
--------------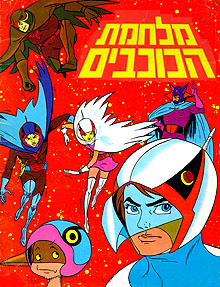 An Israeli version of the card collection album issued in Spain and the Netherlands. It had space for 240 cards. This edition was released in 1983. Publisher unknown.
--------------
Two Israeli releases of original French books. On the left is Lake Dragon and on the right is Well Done Keyop. Both were issued in hardback form in 1983. Published by Modan.
--------------
.......
.......
.......
.......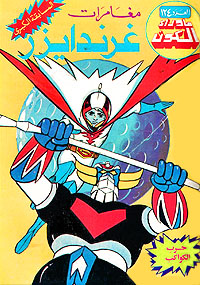 The nine known issues of the Arab language Beyond the Universe comic with Battle of the Planets content. The issue numbers were 33, 34, 36, 38, 77, 95, 111, 113 and 124. The series featured art reprnted from other sources that was translated into Arabic for release in numerous countries. Beyond the Universe ceased publication with issue 140. Issue 32 included a special two page preview announcing the start of Battle of the Planets in number 34. The first five issues adapted American comics, while the final four translated French comic content. The cover for issue 33 was unused art originally drawn for the cover of the first American comic. 1979 - 1980. Published by Flying Carpet Foundation.
--------------
.......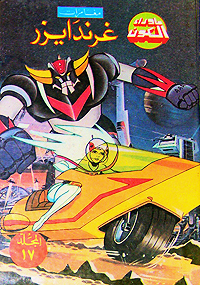 When Beyond the Universe ceased monthly publication, its individual issues were gathered into album collections. Each album included seven issue reprints. The above are albums 11, 14 and 17, the only ones to feature Battle of the Planets images on their covers. However, there were Battle of the Planets reprints in albums 5, 6, 11, 14, 16, 17 and 18. 1981, by Flying Carpet Foundation.
---------------------------------------------------------------