Books
---------------------------------------------------------------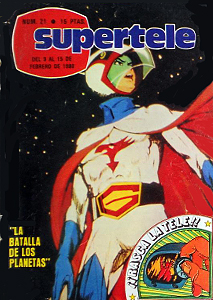 The February 9 - 15 issue of Spain's Supertele TV guide (issue 21) ran a four page lead story about the impact of science fiction and recent blockbuster films on the creation of Battle of the Planets. This was close to the beginning of the series' airing in Spain - only four episodes had run by the time the issue came out. 1980, by Ediciones Lanzamiento.
--------------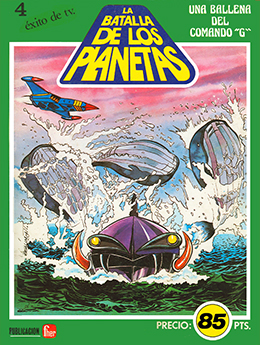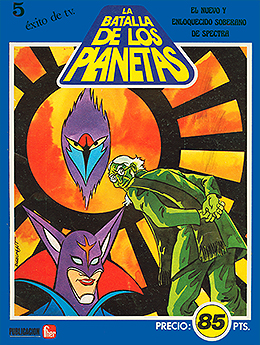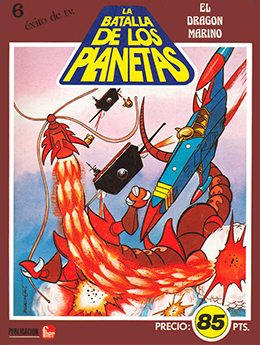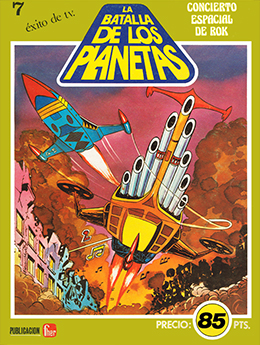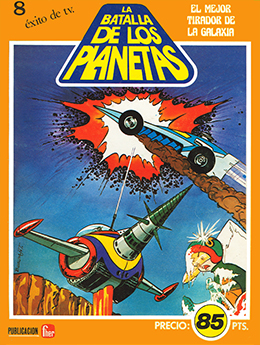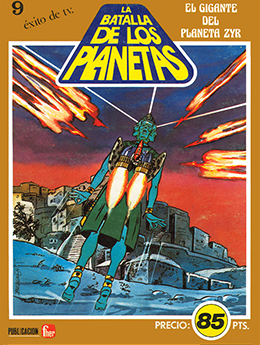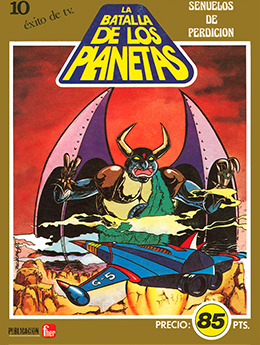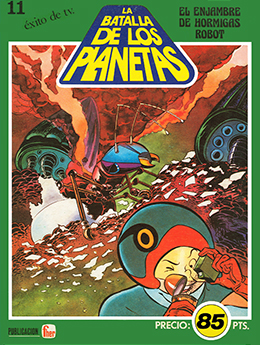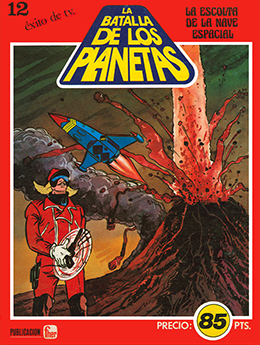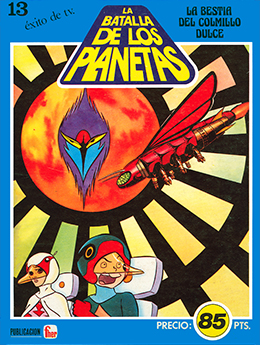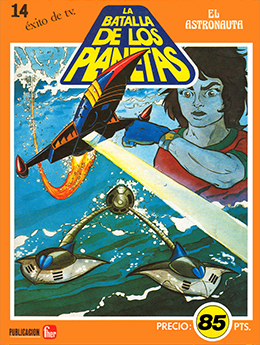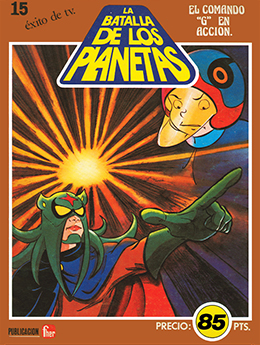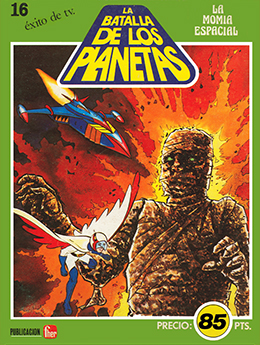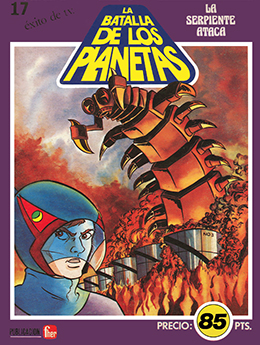 All 17 of the individual Spanish comic issues. These issues were oversized with thick covers and were printed on high quality paper. The story and art for each were adapted directly from Battle of the Planets episodes. Included were; Issue 1 - Perilous Pleasure Cruise 14, Issue 2 - The Thing With 1000 Eyes 15, Issue 3 - Mammoth Shark Menace 55, Issue 4 - A Whale Joins G-Force 18, Issue 5 - Mad New Ruler of Spectra 21, Issue 6 - The Sea Dragon 22, Issue 7 - Space Rock Concert 41, Issue 8 - Fastest Gun in the Galaxy 57, Issue 9 - Giant From Planet Zyr 57, Issue 10 - Decoys of Doom 62, Issue 11 - A Swarm of Robot Ants 10, Issue 12 - Space Rocket Escort 11, Issue 13 - Beast With a Sweet Tooth 12, Issue 14 - Rescue of the Astronauts 2 (mostly Attack of the Space Terrapin 1), Issue 15 - Commando G in Action (the end of Rescue of the Astronauts 2 and some original content), Issue 16 - The Space Mummy 3 and Issue 17 - The Space Serpent 4. An 18th issue was announced but does not appear to have been published, instead its contents and a few other unpublished stories ended up in the collections shown directly below. These comics were printed in 1980 by Publicacion Fher.
--------------
Four squarebound comic albums. Each of these issues was done with the same style of painted artwork as in the above comics. This issue's titles were Issue 1 - The Space Mummy 3, Issue 2 - The Space Serpent 4, Issue 3 - Ace From Outer Space 7 and Issue 4 - Space Rocket Escort 11. Issue 1 contained two stories and a special section about G-Force, while books 2 - 4 contained three stories each. Most stories appeared in the single issue releases depicted above, but two stories in issue 2 and all three in issue 3 were printed in these collections for the first time. These books were also later adapted for the French and Netherlands markets. 1980, by Publicacion Fher.
--------------
.......
Two fold-out Battle of the Planets activity books in the "Completed by you" line. The interiors presented short, full-color comic stories with blank spots in the artwork. The reader was meant to attach a series of stickers in the appropriate blank spots to help complete the story. These activity books were oversized and printed on heavy card stock. The first issue was titled The Space Mummy 3 and the third issue was titled Space Rocket Escort 11. 1980, by Publicacion Fher.
--------------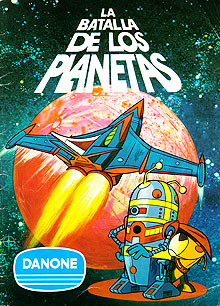 Three card albums made for Spain. The upper left titled G-Force Against the Monsters of Spectra was issued by Editorial Fher in 1980 and had space for 178 cards. It was also reissued in Venezuela. The red album on the right called Battle of the Planets, from the T.V. Hit was reissued in the Netherlands and Israel. It was printed in 1980 by Editorial Fher and had space for 240 cards. The final album on the bottom was published by Danone in 1980. It had space for 94 cards.
--------------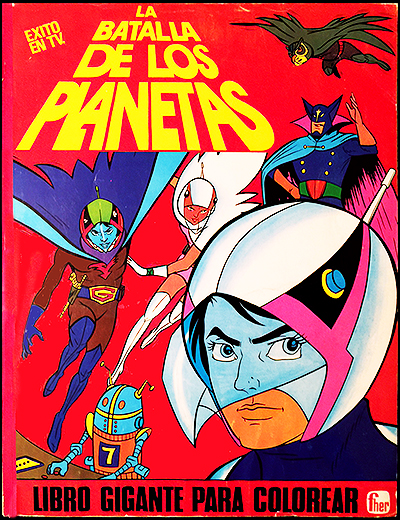 This gigantic floor coloring book from Spain really lived up to its description. It was approximately 1-1/2' x 2' with 16 pages. Some pages included four separate pictures, some only one giant picture, for a total of 40 images to color. 1980, by Editorial Fher.
--------------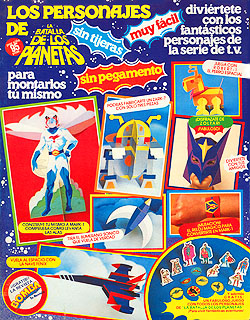 This item was a special bonus activity book from the monthly entertainment magazine, Bomba. It was called The Characters of Battle of the Planets and it contained several paper punch-out models, including 7-Zark-7, 1-Rover-1, Mark, Zoltar's Mask, Mark's Sonic Boomerang, The Phoenix, A G-Force Wrist Activator and a small game. Also inside was the regular issue of Bomba that included some Battle of the Planets content. The paper models were printed in full color on heavy card stock, some with metallic ink. 1981, by Bomba.
--------------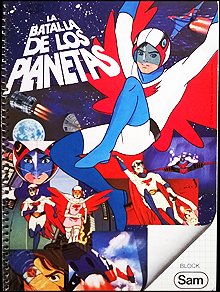 .....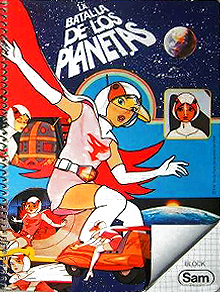 Two spiral bound notebooks of blank graph paper for school children. 1980, by Sam.
--------------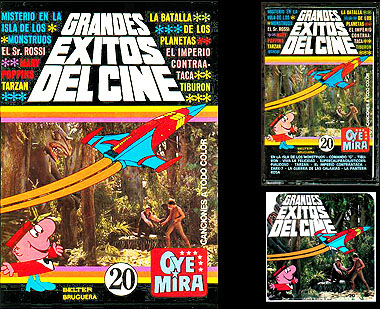 Hey Look - Songs in Full Color was a thin, digest-sized periodical issued approximately twice a month that contained comics, song lyrics, games and stories about TV, movies, music and sports. Each issue centered on one or two subjects and was accompanied by a themed cassette tape. Although Battle of the Planets was not a cinematic presentation, it appeared here in issue 20, "Big Hits of the Cinema" with a 16 page adaptation of the episode "The Space Rock Concert 41." There were also Battle of the Planets themed games inside. The issue's cassette included Commando G and Zark 7 by Parchis along with other sci-fi songs and themes. Other issues in the series contained occasional references to Battle of the Planets, as well as unique instrumental versions of some of the Spanish Battle of the Planets songs on the accompanying cassettes. Each book also came with a sticker themed on the issue's cover, as seen above under the cassette. Early 1982, by Editorial Bruguera and Discos Belter.
--------------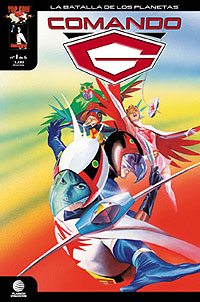 .......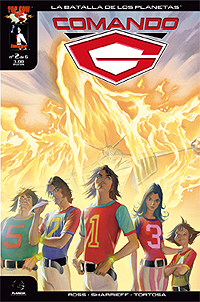 .......
All twelve issues of Top Cow's new US Battle of the Planets comic main storyline were collected into six issues in Spain. 2004, by Planeta DeAgostini.
--------------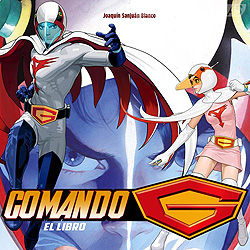 A series overview book, Comando G, The Book, was written by Joaquín Sanjuán Blanco. It included chapters on the main characters, episode lists of Battle of the Planets, G-Force, Gatchaman and its sequels and the OAV series, thorough synopses of the Battle of the Planets episodes that appeared in Spain, music, comic books, international Battle of the Planets merchandise an interview with the Spanish voice actress of Aggie from G-Force and more. It totaled 192 pages and was in black and white and color. It was #25 in the "Manga Books" series collection. 2013, by Tebeos Dolmen Editorial, SL.
---------------------------------------------------------------