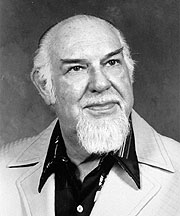 About Executive Producer - Head Writer Jameson Brewer
Most of the story material originated from the creative mind of Emmy-winner Jameson Brewer, coproducer and head writer. Brewer is aided by a staff of eight additional writers. Brewer, who early in his career wrote the classic Fantasia, is one of the veteran storytellers of Hollywood filmmaking. He has written 500 radio shows and nearly the same number of TV programs as well as 53 full-length features, eight of which were full-length animated films. While a head writer at Walt Disney Studios for five years he worked on such other memorable Disney films as Ferdinand, Ugly Duckling and Pinocchio. Brewer also served as a producer-director-writer for MGM for two years and for a cumulative 10 years has been associated with the Hanna-Barbera company as a writer. He won his Emmy for The Last of the Curlews, an animated special from Hanna-Barbera. Many of the films he wrote in the animated area resulted in Academy Awards for the producing companies. Earlier in his career he wrote for the famed Robert Benchley and Pete Smith shorts.
For more information, visit here.