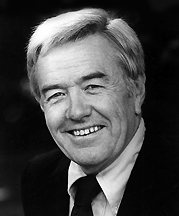 A very busy television actor from the early 1950s through the end of the 1980s, Frank Maxwell was mainly featured in live-action productions. Before Battle of the Planets, he only had two credits as a voice actor, both for Hanna-Barbera.
Maxwell went completely uncredited on Battle of the Planets. He played a number of Federation scientist characters. Dr. Baxter 37 and Professor Wilde 14 were two examples. However, one of the most recognizable roles he played was probably Zeno 46, the alien who was trying to return to his home planet.
For more information, visit here.