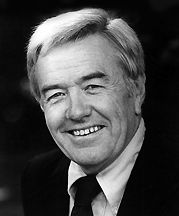 A very busy television actor from the early 1950s through the end of the 1980s, Frank Maxwell was mainly featured in live-action productions. Before Battle of the Planets, he only had two credits as a voice actor, both for Hanna-Barbera.
Maxwell went completely uncredited on Battle of the Planets. He played a number of Federation scientist characters. Dr. Gorki 100 and Professor Wilde 14 were two examples. He also portrayed a variety of Spectra villains.
For more information, visit here.